What is Awakening School?
Awakening School of Ministry
Awakening School of Ministry
Below we provide more information which includes study and ministry format, schedule, tuition costs and FAQs about our upcoming school of ministry based in Eimeldingen (Germany) right on the border of Switzerland and France.
Study and ministry format
Awakening School of Ministry is focused on personal transformation. While there are no grades given, participation, excellence, and timely completion of homework are expected of each student.
There will be a variety of books which you will read during your time with us in addition to a Bible reading plan.
As a whole school, we will share the Gospel on weekly outreaches in various locations (Basel, Freiburg, Lörrach…).
In addition to the main sessions, you will be able to choose from among various elective classes. These will include Prophetic Training, Preaching, Leadership, Missions, Church Planting, Stadium Event Management, Mass Evangelism and many more.
Every student will learn how to preach and be trained in how to communicate the Word of God.
To activate you in ministering to people around the world, you will have the opportunity to take part in a mission trip in the second half of our school year.
Transferable credit
Students attending ASM should consider themselves full-time students carrying a full load of coursework. We are very excited to announce our cooperation with ISTL (International Seminary of Theology and Leadership) which will allow ASM Alumni to receive credits towards a bachelors degree.
ISTL is an innovative training center for theology in leadership. The school has campuses in Germany and Switzerland. Their four different Bachelor of Arts programs are fully accredited with the European Council for Theological Education (ECTS). ISTL enables people for full-time ministry in church planting, missions, evangelism, and pastoral ministry.
For more information contact ISTL or visit their website here.
Weekly school schedule
School will generally run from Monday-Thursday roughly between 9 AM and 2 PM. You will also be expected to attend and serve at our weekly Sunday service.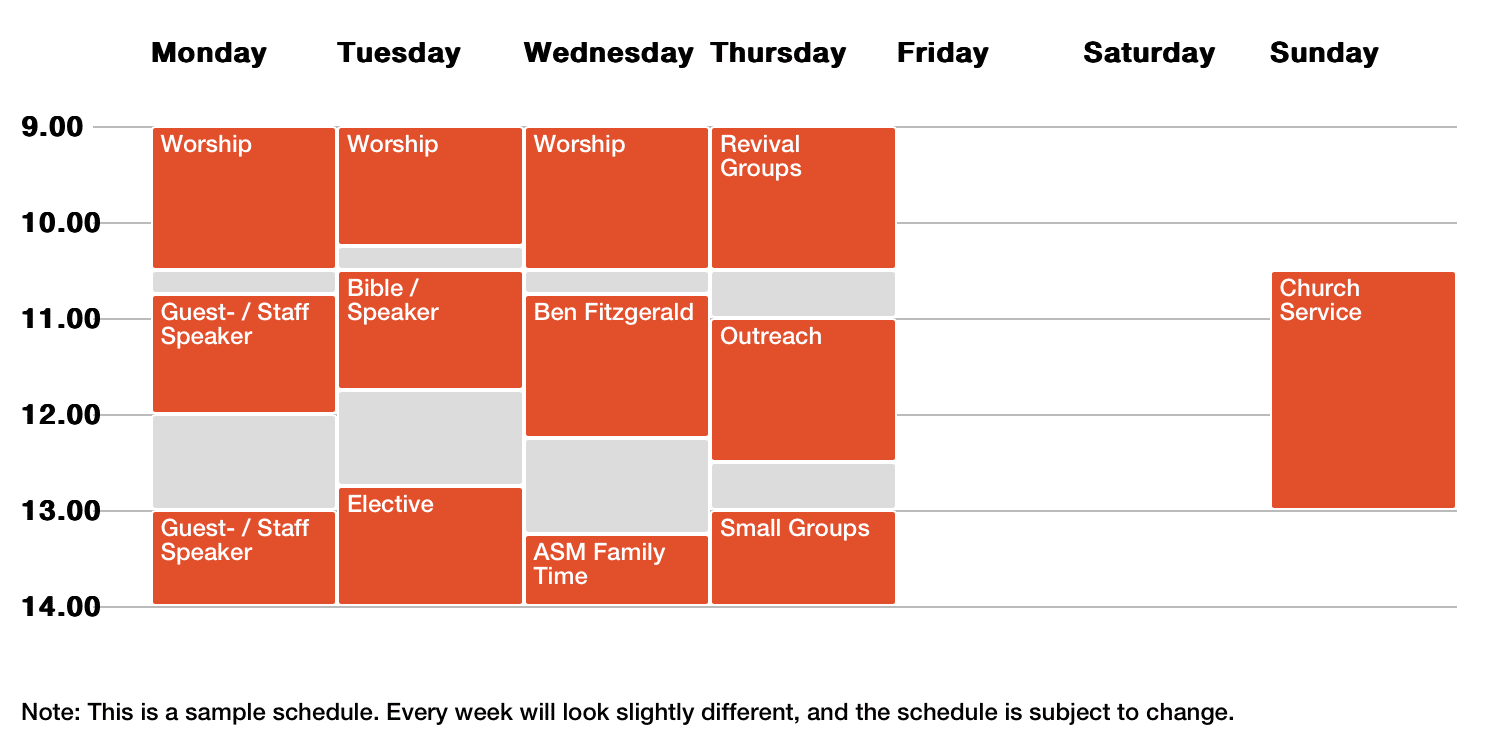 Note: This is a sample schedule. Every week will look slightly different, and the schedule is subject to change.
Important school dates
| | |
| --- | --- |
| School Start: | October 4, 2023 |
| Retreat: | October 24-26, 2023 |
| Mission Trips: | April 5-16, 2024 |
| Graduation: | June 9, 2024 |
School break schedule
Fall break:
November 13-19, 2023
Christmas break:
December 22, 2023 – January 7, 2024
Winter break:
February

 16-25, 2024

Easter break:
March 22, 2024 – April 1, 2024
Spring break:
May 9-12, 2024
Tuition costs
There are three different models from which you can decide what fits you best.
500€ deposit + 2800€ fully paid by August 1st, 2023
500€ deposit + 3100€ fully paid by September 15th, 2023
School tuition will include: All sessions, books, mentoring and administrative expenses. Note: All living expenses and the mission trip are not included in tuition. Mission trips generally cost around 1000 to 2000€. This will be due closer to the trip dates. In addition to the tuition costs there's a non-refundable application fee of 50€. Once you are accepted, there's a non-refundable deposit payment of 500€ which counts towards your final tuition payment.
Frequently Asked Questions
1. What language will the school be held in?
Our school will be taught in English without translation. We do encourage you to not let this be a hindrance to your application as the school could also help you grow in English.
2. Where and when will Awakening School of Ministry take place?
Our school will be located in Eimeldingen (near Lörrach, Germany) and our 9-month program will run from October 2023 to June 2024.
3. Are you accepting international students?
YES!! Since we are a non-accredited school, we cannot help with any visa applications. If you hold a Schengen passport or have a Schengen residency or visa which will allow you to attend school, you can apply.
4. Can I work on the side?
Yes, school hours are designed in a way for you to be able to work a part-time job after school or on weekends.
5. What are the accomodation options?
Accommodation will not be provided through Awakening School of Ministry. Students are responsible to find their own housing.
If you need help in this, you can either check out the bulletin board of our local church here (Link in German: https://g5meinekirche.de/schwarzes-brett/)
Or you can get in touch with our friends at Ministree e.V. that are helping many of our students find housing by emailing info@ministree.de
6. Do you allow visitors?
If you are not a student but want to visit our school, you can do so for 4 days during the school year. Our school is open to visitors on most days (see Calendar for dates closed to visitors). Visitors need to register beforehand, and space will be limited.
7. What are Revival Groups?
You will be placed into a group of students where you have the opportunity to grow in deep relationship with others, encourage one another in your callings and be pastored by one of our leaders.
8. I have Kids, can I attend ASM?
Yes! You're welcome to join our worship sessions with your kids. Additionally we have a room close to the auditorium with a video screen where the speaking sessions will be streamed, so you don't miss out on what God is doing in school. If your child is asleep or resting, you can walk back into the main auditorium.